DRUMS
Dave Hanlon
The sticks that drive the sound.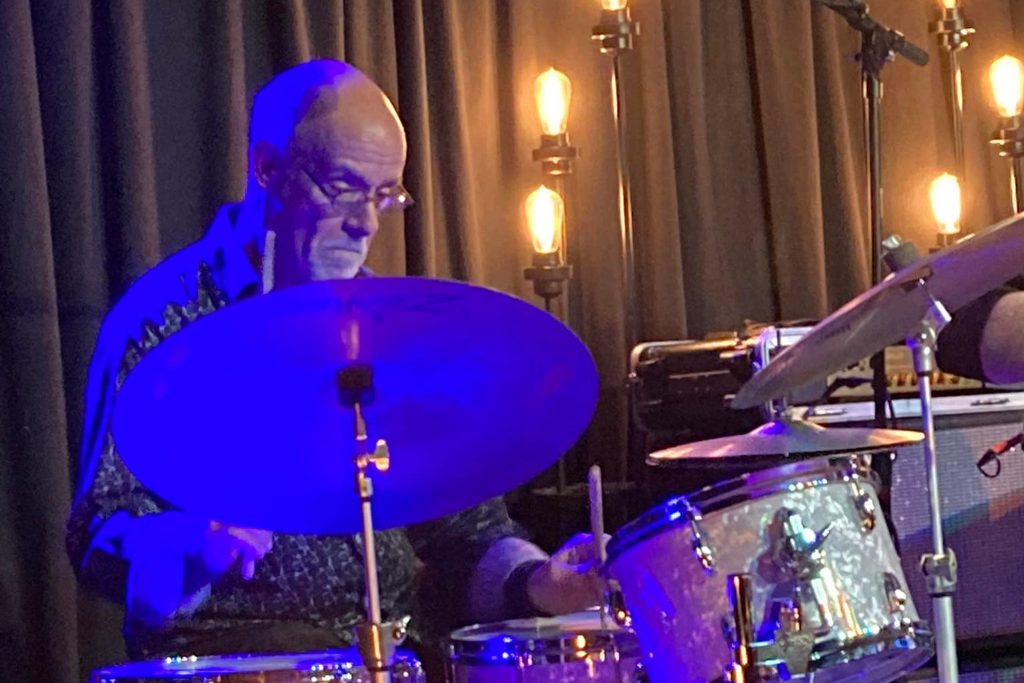 DAVE HANLON — DRUMS
Funky Jazz comes full circle.
Dave has been a fixture of the Syracuse music scene since the 1970s. If you've been to nearly any live music event or festival during that time, it's likely you've heard him play. Most recently, you've probably seen him fat JazzFest or many of the music friendly places around Syracuse. Learn more about Dave, or even book lessons at his personal website.
In this incarnation of Funky Jazz Band, Dave once again gathers some of his best friends and the most talented musicians he knows to play great music and have fun doing it.
Videography/Recording:
Studio Jams:
Sessions # 82, 83, & 84 -2018
Sessions # 72, 73, & 74-2015
Sessions # 65 & 66-2014
Sessions # 53, 57, & 58- 2013
Available via: Youtube/Dave Hanlon
Tributes
2018- Jim Rodford
2019- Chris Vadala, Ed Cherney, Hal Blaine
2020- Jimmy Cobb, Bobby Comstock, Lee Konitz, Wallace Roney, Hal Ketchum, Bill Withers
2021-(to be released) Mario DeSantis, Pervis Staples, Roger Hawkins, Rusty Young, Hilton Valentine, Dusty Hill, BJ Thomas, Gerry Marsden
Discography:
Dave Hanlon's Cookbook CD's
Dave Hanlon's Cookbook -"HOT & SWEET" – Tasty Tracks Records
Dave Hanlon's Cookbook -"Dig In" – Tasty Tracks Records
Dave Hanlons Cookbook Live from the Dinosaur BBQ – Tasty Tracks Records
Studio Sessions and Other Recordings
Diana Jacobs Band- Love Each Other -Love Our World- 2021
CRAC- All For You- King Underground Records-2019
Ronnie Leigh Live @ Apple Jazz-2012 release
Greg Hoover-Players & Friends-2011
Lauren Barrigar & Mark Mazengarb-2011
Dave Hanlon's Cookbook- Big Mike's Xmas volume 13, 14 & 15
Smooth C.R.A.C -"All For You" C.R.A.C. Records
Duke Jupiter -"Taste The Night" -Mercury Records
Duke Jupiter -"Band In Blue" -Mercury Records
The Band Played On – 20 Years of Duke Jupiter"-Duke Jupiter Records
Swing Central -"For The Love Of It" -Award Records
Swing Central -"Y-94 Big Mike Xmas Vol #2, 4, 5 & 6 " -Award Records
Apple Jazz Records
Charlie Bertini &  Apple Jazz Band -Classic Performances
Gregory Simmons- "Signs Of Life"-Apple Jazz Records
Apple Jazz Band -"Apple Sasse" -Apple Jazz Records
Apple Jazz Band -"Acid Dixie" -Apple Jazz Records
CNY Sounds, Vol. 1 -Tracks 1,5 and 9 – Blue Funk Records
Be The One To Make A Wish Come True, with Edgar Pagan & Jimmy Haslip
Awards and Recognition
2018 SAMMY  Hall Of Fame —Dove
2015 Studio Jams Most Inspiring Drummer Award….StudioJams.com
2014 Rochester Music Hall Of Fame-Duke Jupiter
2013 Classic Drummer Magazine
2011 SAMMY Best R & B CD
2011 New York State Most Talented Realtor Award
2005 SAMMY Hall Of Fame Award
2004 SAMMY Award best R & B CD
1999 SAMMY Hall of Fame-C.R.A.C.
1996 SAMMY Award Best Contemporary Jazz Band
Funky Jazz Band
Deeply rooted in jazz.